What is Altered Book Art?
To create an altered book is to use a book as your creative canvas. It's a form of both book arts and altered arts.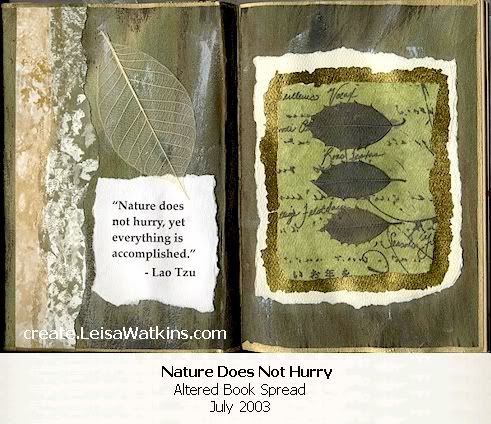 It can be a new book, or an old book. However, I've only use old books that are usually headed for the dump or a burn pile. I purchase primarily from library book sales.
According to the librarian books that are not sold are destroyed. So what better way to give them new life that to turn them into a work of art.
How is the Art Created?
What you can do to an altered book is practically limitless. Altered books can be rebound; removing the cover and replacing it, or using the cover and replacing the pages. The books can be torn, folded, stitched, burned, stamped, cut, etc…
An Altered Book doesn't necessarily have to close when they are completed. In fact, altered books are beautiful sitting on a shelf, or a coffee table, where the viewer can catch glimpses of art. It's usually art meant to be picked-up and discovered.
An Altered Book may end up being many double spread of pages or art, a cover with a hidden niche inside, or just two pages when completed.
What Else Can You Do?
That's only limited by your imagination. I've incorporated feathers, wire, screen, metal, leafs, charms, fiber, watch parts, and much more.
Below is swatches taken from some of the pages I've created:
Where Can I Find Additional Information?
Here. We will add images, plus tutorials on different methods you can use in your altered books. Nearly any technique you'll find here will be able to be incorporated into an altered book. If a technique works to create an Artist Trading Card is should work just fine in an altered book.
The International Society of Altered Book Artists is an non-organization dedicated to promoting altered books as an art form. They have a forum where artists exchange ideas, and techniques. They also sponsor roaming educational exhibits and other events.

Join one of the Altered Book Groups at Yahoo.com.
Subscribe And Create
Email This Post
Print This Post
Posted on May 3rd, 2008 by Leisa
Filed under: Altered Art, Altered Book Art, Book Arts
7 Comments »